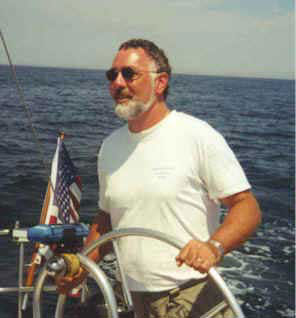 On Labor Day 1998, an unusually severe storm swept through New York Harbor, causing the loss of one of our club members, Bruce Hagan.  Manhattan Yacht Club organizes it's annual regatta every year in Bruce's memory.  All entry fees will be put into a club charitable fund.  The charitable fund was established in 2010.  Prizes of the Bruce Hagan Memorial Regatta will be awarded at the Annual Dinner.
2017 J/24 Entries
1 – Ken Zorovich & Dan Crabbe
2 – Mark Stehli
3 – Erik Lumer
4 – John Carlson
5 – Ruth Cole
6 – Jay Parekh
7 – Mario Valenti
8 – Katie Morgan
9 – Steve Rawlings
10 – Emre Cumali
11 – Lloyd Spencer & Doug Witter
12 – Glen Burger
13 – Mike Verost
EC – Alex Settles
SW – Danielle Gallo
IOD Entries
Black Arrow – Michael Fortenbaugh
Instigator – Rohit Pandey
Zephyr II – Doug Moreland
D'Artagnan – Yannick Le Gourieres
Notice of Race
Saturday, October 14, 2017
Location: Upper Bay of New York Harbor
Rules: This regatta will be governed by the Racing Rules of Sailing, the US Sailing Association Prescriptions, and the stand MSC sailing instructions.
Schedule: Saturday
930 – Skipper's Meeting
1015 – Start Race 1
Up to 5 races will be attempted.  All races will be sailed back to back.  Bring your lunch and eat it on the water.  No race will be started after 1530.
Entry Fee: The Entry Fee is a donation to the Manhattan Sailing Club's new charitable fund.  The suggested minimum donation per team is $250 (larger donations are appreciated).
Scoring: The low point scoring system Racing Rules of Sailing, Appendix A will be used.  If 4 or more races are completed teams may discard one race.
To Enter: send an email to office@myc.org.

Past Results:
Bruce Hagan Memorial Regatta 2017
J/24s (boat)
Race 1
Race 2
Race 3
Race 4
Total Pts
1
Mario Valenti (7)
3*
2
1
1
4
2
Mark Stehli (2)
1
6*
5
2
8
3
Kate Morgan (8)
10*
1
3
4
8
4
Steve Rawlings (9)
5
3
2
15*
10
5
Ken Zorovich & Dan Crabbe (1)
7
4
9*
6
17
6
Alex Stelles (SF)
9
7
13*
3
19
7
Erik Lumer (3)
11*
10
4
5
19
8
Ruth Cole (5)
2
11
12*
7
20
9
Danielle Gallo (SW)
6
5
11*
9
20
10
Lloyd Spencer & Doug Witter (11)
4
8
14*
13
25
11
Michael Verost (13)
14*
9
10
8
27
12
Jay Parekh (6)
12
15*
6
11
29
13
Emre Cumali (10)
14*
13
7
10
30
14
John Carlson (4)
8
14*
8
14
30
15
Glen Burger (12)
13
12
15*
12
37
IODs
Race 1
Race 2
Race 3
Race 4
Total Pts
1
Black Arrow
1*
1
1
1
3
2
D'Artagnan
3
2
2
4*
7
3
Zephyr II
2
4*
3
3
8
4
Instigator
4
3
4*
2
9
Bruce Hagan Memorial Regatta 2016
Team (boat)
Race 1
Race 2
Race 3
Race 4
Race 5
Total Pts
1
Lloyd Spencer (11)
8*
3
1
2
1
7
2
Ken Zorovich & Dan Crabbe (1)
3
1
10*
6
2
12
3
Michael Fortenbaugh (8)
8
2
2
1
13*
13
4
Danielle Gallo (4)
2
9*
4
4
4
14
5
Kate Morgan (10)
1
11*
5
10
5
21
6
Erik Lumer (9)
5
10*
7
3
6
21
7
Steve Rawlings (13)
6
4
9*
5
8
23
8
Jay Parekh (6)
4
13*
6
8
8
26
9
Simon Bober (12)
7
7
13*
10
3
27
10
Michael Verost (7)
8
8
3
10
11*
29
11
Jim McNally (5)
8
5
8
9*
9
30
12
Ray Quinn (3)
8
6
12*
7
12
33
13
Emre Cumali (2)
8
12*
11
10
10
39
2015 Bruce Hagan Memorial Regatta
17-Oct-15
Team (Boat #)
Race 1
Race 2
Race 3
Race 4
Race 5
Total
1
Michael Fortenbaugh (8)
1
1
1
1
2*
4
2
Lloyd Spencer (11)
2
2
2
3*
1
7
3
Katie Morgan (4)
3*
3
3
2
3
11
4
Erik Lumer (6)
4
4
8*
4
4
16
5
Steve Rawlings (13)
5
6^
5
6
5
21
6
Jay Parekh (3)
7*
5
4
7
7
23
8
Ken Zorovich (2)
8*
8
7
5
6
26
9
Bertrand Saliba (5)
6
7
5
8*
8
26
* denotes throw out
2012 Bruce Hagan Memorial Regatta
| | | | | | |
| --- | --- | --- | --- | --- | --- |
| | Team (#) | Race 1 | Race 2 | Race 3 | Total |
| 1 | Paul Wilson – SN | 1 | 2* | 1 | 2 |
| 2 | Katie Morgan – 4 | 9* | 1 | 2 | 3 |
| 3 | Eric Bulis/TJ Dalton – 8 | 2 | 3* | 3 | 5 |
| 4 | Mark Magill – 2 | 3 | 6 | 17* | 9 |
| 5 | Danielle Gallo – FF | 9* | 4 | 5 | 9 |
| 6 | James K. Lowden – 13 | 4 | 7 | 17* | 11 |
| 7 | Allen Wolf – 12 | 5 | 9* | 6 | 11 |
| 8 | Chris MacDonnell – 10 | 9 | 10* | 4 | 13 |
| 9 | Jim McNally – 9 | 9 | 5 | 17* | 14 |
| 10 | Jackie Swensen – SW | 6 | 15* | 8 | 14 |
| 11 | Rick Kern – 11 | 9 | 12* | 7 | 16 |
| 12 | Eric Scott – 3 | 7 | 14* | 9 | 16 |
| 13 | Carl Pritzkat – EC | 9 | 8 | 17* | 17 |
| 14 | Mac True – SS | 9 | 11* | 10 | 19 |
| 15 | Chris Snow – SF | 9 | 20* | 11 | 20 |
| 16 | Patty Bryan – CO | 8 | 18* | 13 | 21 |
| 17 | Mario Valenti – YA | 9 | 21* | 12 | 21 |
| 18 | Caner Dinlenc – FC | 9 | 13 | 17* | 22 |
| 19 | Michael A. DeRose – 7 | 9 | 16* | 14 | 23 |
| 20 | Glen Burger – HH | 9 | 22* | 15 | 24 |
| 21 | Peter Abelman – FC | 9 | 19* | 16 | 25 |
| 22 | Javier de Miguel – 1 | 9 | 17 | 17* | 26 |
2010 Bruce Hagan Memorial Regatta
October 17, 2010
J 24's Team
1
2
3
Total Pts
1
Michael Fortenbaugh – 11
1
2
1
4
2
Klaus Brinkbaeumer – FD
2
1
2
5
3
Kate Morgan – 4
3
3
3
9
4
Joe DiFranks – FF
7
6
4
17
5
Carl Pritzkat and Matthew Pelfrey – EC
4
5
10
19
6
J.J. McDonald – 5
10
8
5
23
7
Mario Velenti – 6
6
10
7
23
8
Mark Magill -1
5
11
8
24
9
Scot Surbeck – 3
9
9
6
24
10
Jim McNally – 9
10
4
11
25
11
Jackie Swensen & Carol Wills – GR
10
7
12
29
12
Tom Wallin -CO
8
12
9
29
13
Patty Bryan
10
13
13
36
J/105's Team
1
Austin Fragomen – Warlock
1
2
1
4
2
David Spence –    Synergy
2
1
2
5
3
Zach Fluhr  – Blythe Spirit
3
3
3
9
2008 Bruce Hagan Memorial Regatta
| | | | | | |
| --- | --- | --- | --- | --- | --- |
| Place | Boat | Race 1 | Race 2 | Race 3 | Total |
| 1 | Michael Fortenbaugh (11) | 2 | 1 | 2 | 5 |
| 2 | Sam Cox (FF) | 3 | 2 | 1 | 6 |
| 3 | Kate Morgan (CT) | 1 | 4 | 3 | 8 |
| 4 | Bruce Stone/Jacques Elmaleh (5) | 4 | 3 | 4 | 11 |
| 5 | Mark Wiliams (SF) | 5 | 5 | 5 | 15 |
| 6 | Randy Lewis (13) | 6 | 7 | 8 | 21 |
| 7 | Rick Kern (6) | 7 | 8 | 9 | 24 |
| 8 | Scot Surbeck (SN) | 8 | 6 | 11 | 25 |
| 9 | Joe DiFranks (SS) | 9 | 10 | 6 | 25 |
| 10 | Jim McNally 9) | 10 | 15 | 7 | 32 |
| 11 | Chris Land (4) | 11 | 15 | 10 | 36 |
| 12 | Tom Wallin/Steve Hamilton (3) | 15 | 9 | 13 | 37 |
| 13 | Teresa Oeterson/Marcus Wundderlich (10) | 12 | 11 | 14 | 37 |
| 14 | Han Huang/Jacqueline Belliveau (7) | 14 | 12 | 12 | 38 |
| 15 | Mercedes Tech (1) | 12 | 12 | 16 | 40 |
| 16 | Jackie Swenson/Caroll Willis (8) | 16 | 14 | 15 | 45 |
2007 Bruce Hagan Memorial Regatta
| | | | | | |
| --- | --- | --- | --- | --- | --- |
| Place | Team | Race 1 | Race 2 | Race 3 | Total Points |
| 1 | 6 – Randy Lewis | 5 | 1 | 2 | 8 |
| 2 | 10 – Caroline Bradley | 1 | 5 | 3 | 9 |
| 3 | 7 – Christopher Land | 3 | 3 | 4 | 10 |
| 4 | 4 – J.J. McDonald | 6 | 6 | 1 | 13 |
| 5 | 1 –  Mark Magill | 7 | 4 | 5 | 16 |
| 6 | 3- Lee Bremer | 2 | 10 | 6 | 18 |
| 7 | 13 – mercedes tech | 11 | 2 | 7 | 20 |
| 8 | 14 – Jean Yves Noblet & Linda Kulla | 4 | 11 | 12 | 27 |
| 9 | SS – Joe DiFranks | 10 | 7 | 11 | 28 |
| 10 | 11 – Allen Wolf | 12 | 8 | 10 | 30 |
| 11 | SH – Marcus Wunderlich | 14 | 9 | 9 | 32 |
| 12 | 12 – Tom Dyas | 8 | 12 | 14 | 34 |
| 13 | YA – Isabel Marsh & Miles Green | 9 | 13 | 15 | 37 |
| 14 | FC – Neil Stewart | 14 | 11 | 12 | 37 |
| 15 | 8 – Peter Wechter/Jacqueline Belliveau | 13 | 14 | 13 | 40 |
2005 Bruce Hagan Memorial Regatta
| | | | | | |
| --- | --- | --- | --- | --- | --- |
| Place | Team | Race 1 | Race 2 | Race 3 | Total Points |
| 1 | Michael Fortenbaugh (3) | 1 | 1 | 4 | 6 |
| 2 | Lukas Kolff (FF) | 2 | 2 | 2 | 6 |
| 3 | David Robisnon (2) | 3 | 3 | 5 | 11 |
| 4 | Claudia Wieland (YA) | 4 | 6 | 3 | 13 |
| 5 | Jacques Elmaleh (5) | 14 | 4 | 1 | 19 |
| 6 | Tom Wallin (8) | 6 | 5 | 10 | 21 |
| 7 | Eliot Claus (9) | 7 | 7 | 8 | 22 |
| 8 | Joe DiFranks (7) | 10 | 10 | 6 | 26 |
| 9 | Scot Surbeck (12) | 14 | 8 | 7 | 29 |
| 10 | Dana Bolton (11) | 11 | 9 | 9 | 29 |
| 11 | Joe Just (FD) | 8 | 11 | 11 | 30 |
| 12 | Austin Fragomen (4) | 5 | 14 | 14 | 33 |
| 13 | Jim Hedelston (10) | 9 | 14 | 14 | 37 |
| 14 | Weslet Freeburg (GR) | 12 | 12 | 13 | 37 |
| 15 | John Calone (FC) | 13 | 13 | 12 | 38 |
| 16 | Rod Simpson (SS) | | | | |
| 17 | Kevin Kelly (6) | | | | |
| 18 | David Sprafkin (1) | | | | |
| 19 | Jean Yves Noblet (13) | | | | |
2004 Bruce Hagan Memorial Regatta
| | | | | | |
| --- | --- | --- | --- | --- | --- |
| Place | Team | Race 1 | Race 2 | Race 3 | Total Points |
| 1 | Jacques Elmaleh 5 | 5 | 1 | 1 | 7 |
| 2 | Madeleine Tan 9 | 1 | 4 | 6 | 11 |
| 3 | Lukas Kolff 4 | 7 | 2 | 3 | 12 |
| 4 | Austin Fragomen 13 | 2 | 6 | 4 | 12 |
| 5 | Dana Bolton 11 | 10 | 3 | 5 | 18 |
| 6 | Michael Duran 12 | 6 | 5 | 8 | 19 |
| 7 | Tom Wallin 2 | 10 | 9 | 2 | 21 |
| 8 | Stephen Yip 6 | 3 | 10 | 10 | 23 |
| 9 | Rafael Saenz 8 | 8 | 8 | 7 | 23 |
| 10 | Kevin Kelly 10 | 4 | 10 | 10 | 24 |
| 11 | Scott Lawliss 7 | 10 | 7 | 9 | 26 |
| 12 | Mark Magill 1 | 9 | 10 | 10 | 29 |
2003 Bruce Hagan Memorial Regatta
| | | | | | | |
| --- | --- | --- | --- | --- | --- | --- |
| Place | Team | Race 1 | Race 2 | Race 3 | Race 4 | Total Points |
| 1 | Jacques Elmaleh/Bruce Stone 5 | 1 | 1 | 1 | 1 | 4 |
| 2 | Austin Fragomen 4 | 3 | 3 | 2 | 3 | 11 |
| 3 | Mark Magill 2 | 8 | 4 | 3 | 2 | 17 |
| 4 | Lukas Kolff 1 | 4 | 2 | 5 | 7 | 18 |
| 5 | Mercedes Tech 10 | 2 | 8 | 4 | 9 | 23 |
| 6 | Stephen Yip 6 | 5 | 7 | 6 | 5 | 23 |
| 7 | David Bacon 7 | 9 | 6 | 9 | 6 | 30 |
| 8 | Fortenbaugh/Cavrell/LaGrassa/Dalton 13 | 6 | 9 | 7 | 12 | 34 |
| 9 | Roger Kagan YA | 7 | 5 | 11 | 12 | 35 |
| 10 | Tom Wallin CO | 12 | 10 | 10 | 4 | 36 |
| 11 | John Fryer FD | 11 | 12 | 8 | 12 | 43 |
| 12 | Jim Hedelston 11 | 10 | 11 | 15 | 12 | 48 |
| 13 | JJ McDonald FC | 13 | 13 | 14 | 10 | 50 |
| 14 | Kevin Kelly 3 | 16 | 14 | 16 | 8 | 54 |
| 15 | Michael Duran 12 | 15 | 15 | 12 | 12 | 54 |
| 16 | Rafael Saenz 8 | 17 | 16 | 13 | 11 | 57 |
| 17 | Dave Robison 9 | 14 | 17 | 16 | 12 | 59 |
2002 Bruce Hagan Memorial Regatta
| | | | | | |
| --- | --- | --- | --- | --- | --- |
| Place | Team | Race 1 | Race 2 | Race 3 | Total |
| 1 | Roger Kagan 1 | 1 | 1 | 3 | 5 |
| 2 | Aristeia Capital GR | 3 | 2 | 1 | 6 |
| 3 | Jacques Elmaleh SS | 2 | 12 | 2 | 16 |
| 4 | Stephen Yip 6 | 5 | 5 | 8 | 18 |
| 5 | Peter Cavrell/John LaGrassa 2 | 13 | 3 | 4 | 20 |
| 6 | Kent Hawryluk FD | 4 | 10 | 6 | 20 |
| 7 | David Owen 13 | 7 | 4 | 11 | 22 |
| 8 | Mads Ehrhardt 9 | 8 | 9 | 7 | 24 |
| 9 | Danielle Gallo 11 | 6 | 7 | 11 | 24 |
| 10 | Lukas Kolff 3 | 11 | 11 | 5 | 27 |
| 11 | Mark Magill 5 | 9 | 8 | 11 | 28 |
| 12 | Jamie Szoke CT | 12 | 6 | 11 | 29 |
| 13 | Scot Surbeck 12 | 10 | 13 | 11 | 34 |
| 14 | Rafael Saenz 8 | 14 | 14 | 10 | 38 |
| 15 | Jim Hedleston 10 | 15 | 15 | 9 | 39 |
2000 Bruce Hagan Memorial Regatta
| | | | | | | |
| --- | --- | --- | --- | --- | --- | --- |
| Place | Team | Race 1 | Race 2 | Race 3 | Race 4 | Total |
| 1 | Elmaleh/Semel (SS) | 1 | 1 | 1 | 1 | 4 |
| 2 | Gallo (11) | 2 | 4 | 4 | 2 | 12 |
| 3 | DLJ (7) | 9 | 2 | 2 | 3 | 16 |
| 4 | Kelly (4) | 3 | 5 | 3 | 5 | 16 |
| 5 | Gruber ( C) | 6 | 6 | 6 | 4 | 22 |
| 6 | Grau (6) | 9 | 3 | 5 | 6 | 23 |
| 7 | Woronoff (10) | 5 | 8 | 7 | 7 | 27 |
| 8 | McCarthy (1) | 7 | 7 | 8 | 8 | 30 |
| 9 | DLJ (GR) | 4 | 9 | 9 | 9 | 31 |
1999 Bruce Hagan Memorial Regatta
| | | | | |
| --- | --- | --- | --- | --- |
| Place | Team | Race 1 | Race 2 | Total |
| 1 | Bruce Stone | 3 | 2 | 5 |
| 2 | Peter Cavrell | 0.75 | 5 | 5.75 |
| 3 | Tom Bruno | 5 | 4 | 9 |
| 4 | Jean-Yves Noblet/Jacques Emaleh | 2 | 8 | 10 |
| 5 | Kurt Weiss/Adam Spiegel | 10 | 0.75 | 10.75 |
| 6 | Steve Yip | 14 | 3 | 17 |
| 7 | Dave Wilson | 4 | 13 | 17 |
| 8 | Richard Amerling | 7 | 10 | 17 |
| 9 | Pablo Opazo | 6 | 12 | 18 |
| 10 | Fred Lewis | 13 | 7 | 20 |
| 11 | Joe O'Connor | 9 | 11 | 20 |
| 12 | Arthur Goldberg | 16 | 6 | 22 |
| 13 | Bob Ransom | 8 | 15 | 23 |
| 14 | Conor McCarthy | 15 | 9 | 24 |
| 15 | Rafael Saenz | 11 | 14 | 25 |
| 16 | Scott Surbeck | 12 | 16 | 28 |