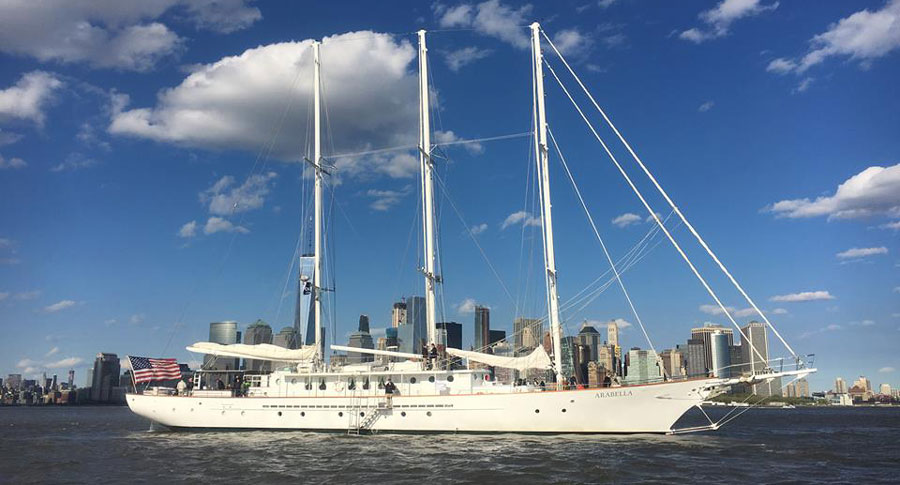 Manhattan Yacht Club's flagship Arabella is stationed in New York Harbor. During this time, Members can go aboard and enjoy her luxury and appointments.
After the Grand Tour in August, Arabella will be open for individual tickets on specific days in New York Harbor.If you have a group of 30 or more people, we can open Arabella on other days as well.
Arabella will be open on these dates (more dates may be added soon):
Thursday evening, August 23
Wednesday evening, August 29
Saturday, September 8 – 2 Special Events
2 to 5 pm – Spectator Yacht for the America's Cup 12 Meter Match Race
6 to 9 pm – Sunset Sail
For Members, tickets to visit Arabella are 1/2 price ($20) and you also receive 50% off drinks. This significant Membership discount is designed for private use, not for a corporate events.  If you wish to do a corporate event onboard, please contact the Club office for a quote. Book your tickets using the form below.
The public is also invited to visit Arabella in the harbor. Their tickets are $40 each and available through http://arabellalifestyle.com/.
In early August, she goes out on charter up Long Island Sound and in the Hamptons. Members are invited to sign up for this summer's Arabella Tour.
Book Tickets Here
open to Members and the public