Membership Committee Meeting Schedule
Manhattan Yacht Club is the premier sailing organization in New York Harbor. The Club has a broad range of facilities and a dynamic community of Members.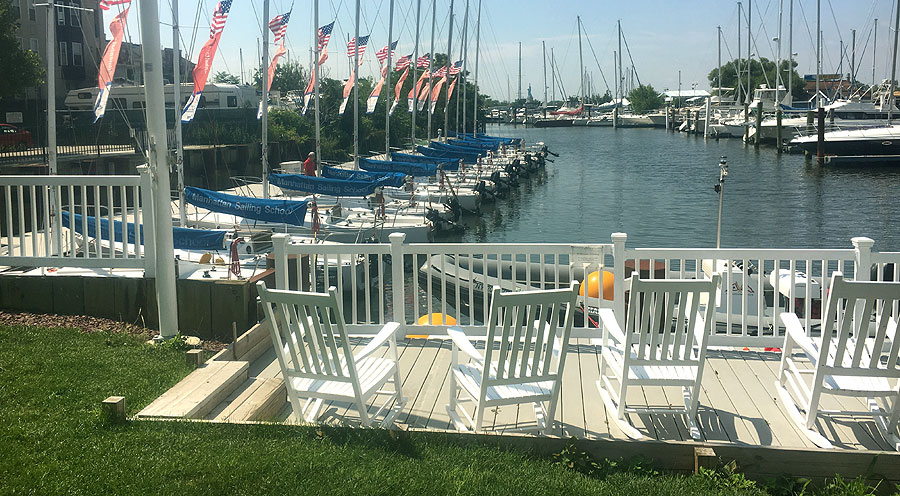 Club Facilities
Our broad range of facilities begins with the Clubhouse at Liberty Harbor Marina in Jersey City. The Clubhouse is filled with historical photos, trophies and burgees from around the world. There are Member lockers and bathrooms. The Clubhouse is surrounded by a grass lawn and several decks where Members can relax on white rocking chairs. Flying above the clubhouse is our flagpole which was funded by visionary Members in 2016.
The Clubhouse is an enjoyable place to relax and escape from the bustle of city life. After races, teams gather around the BBQs and prepare dinner. On weekends, Members enjoy the cushioned chairs beneath the sun awning and families frequently spend the whole day. The social connections created at the Clubhouse are a valued piece of the richness that is Manhattan Yacht Club.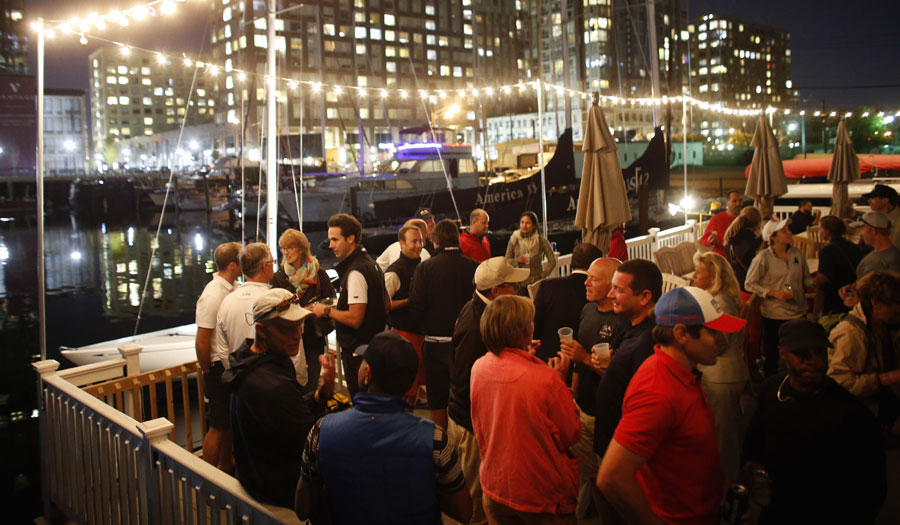 Manhattan Yacht Club also has two floating Clubhouses anchored in New York Harbor. The original clubhouse is called the Honorable William Wall and it serves as a spectator platform for the sailboat races. It is open from Tuesday through Saturday. Affectionately known as the "Willy Wall," this clubhouse features an open air bar on the upper deck. This Clubhouse is also open to the public and frequently used for corporate events and office parties. There is a $20 launch fee to reach this clubhouse and MYC Members receive 50% off all drinks onboard, Members also receive first option for tickets to the Willy Wall's signature event, the Full Moon Party. This is an impressive clubhouse where you can entertain friends, family and co-workers, especially if they are visiting from out of town.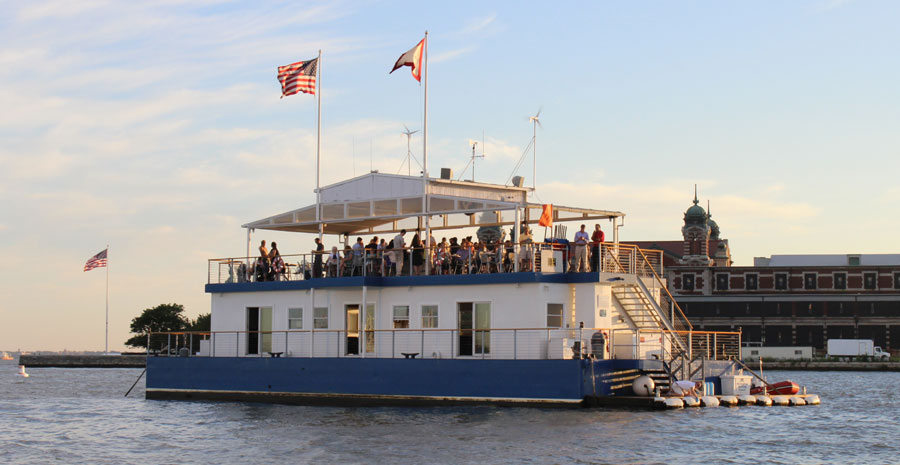 The second floating clubhouse is Arabella, a 157-foot mega yacht. Arabella is open Wednesday through Sunday. Aa a mega yacht, Arabella offers a luxurious atmosphere which will impress everyone, valuable for business meetings and closing deals. Members may buy launch tickets at 1/2 price and they also receive 50% off all drinks onboard. Members also have the opportunity to join Arabella for special member-only events like the annual Yacht Club Tour.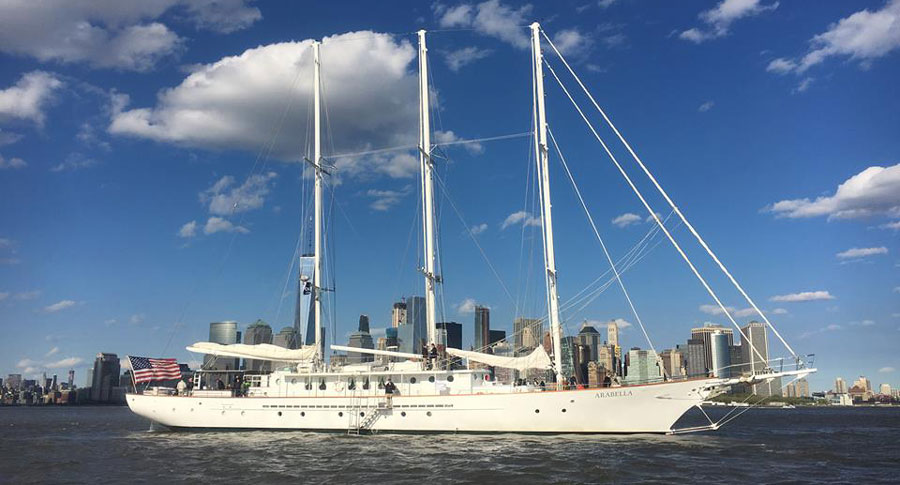 Our main sailing facilities are a shared-use fleet of J/24 sailboats. Membership in the Club gives you access to this fleet and you can sail in the harbor without owning a boat. The Club currently keeps 13 white J/24s on floating docks in front of the Clubhouse. There are an additional 10 red J/24s which are used for our sailing school.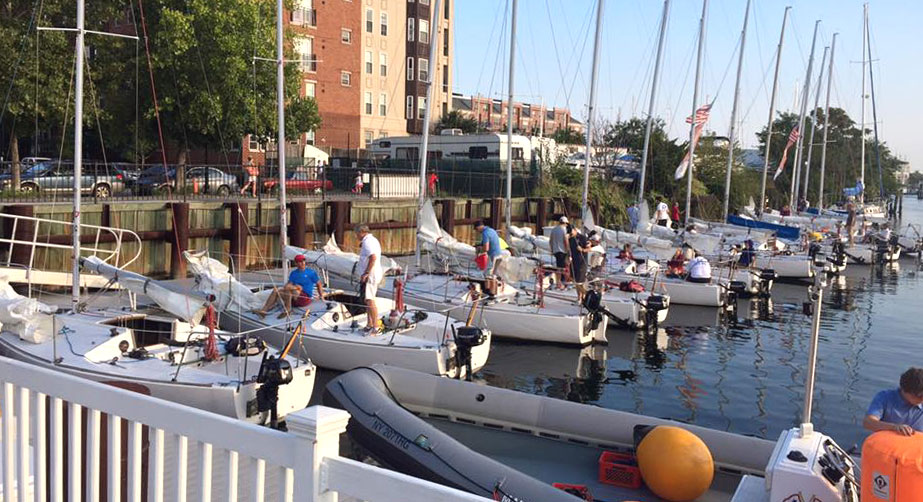 During our 30th Anniversary Season, the Club also established a fleet of International One Designs (IODs). These are classic yachts, beautiful to look at and impressive to sail. The IODs are owned by Members or groups of Members and the fleet has grown to six boats.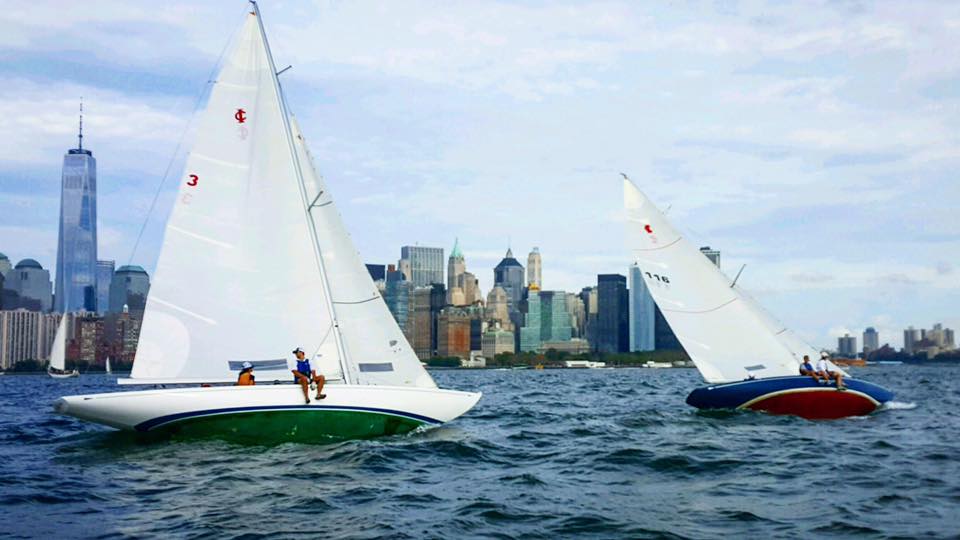 In winter, the Club offers Frostbite Sailing for member-owned Sunfish dinghies. The program was launched in 2016 and is expanding rapidly. By spring 2018, race programs for dinghies may be offered in summer as well.
Member Community
Our community is an active, engaged and diverse group composed from all backgrounds. Our Members share a common passion for sailing. Most Members experience a significant increase in their recreational and social lives after joining Manhattan Yacht Club.
The spirit of Manhattan Yacht Club is one of openness and inclusivity. MYC re-introduced recreational sailing to New York Harbor in 1987. Since then, the Club has pioneered many innovative programs which have made sailing more accessible to more people.
MYC is renowned for our racing programs. There are J/24 races on Tuesday and Wednesday evenings. The IODs race on Thursday evenings and Saturday afternoons. There is a Corporate Sailing League on Thursday evenings and the America's Cup 12 Meters race on Thursdays and Saturdays.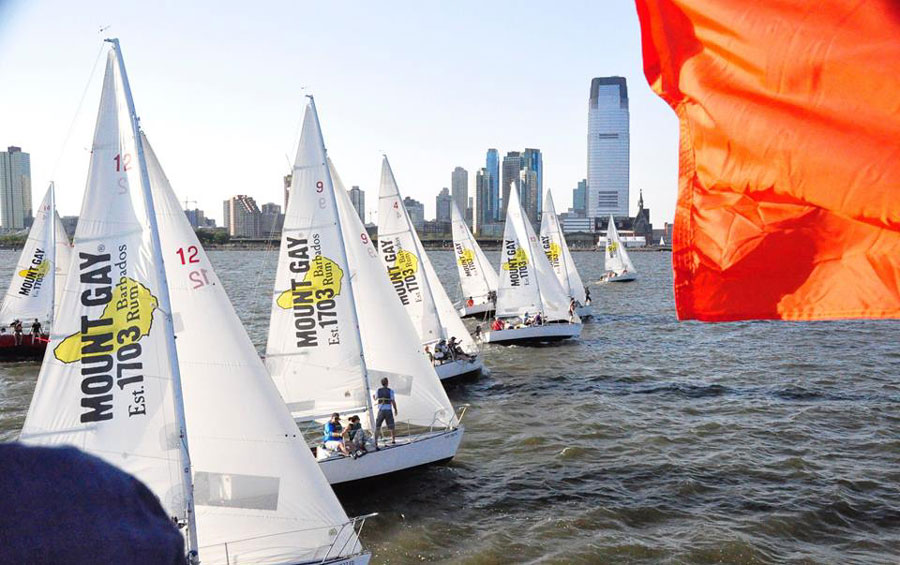 We have an equally strong cruising program. Our Club J/24s sail seven days a week from May until October. The most popular program is called "Fleet Captain" where Club Skippers volunteer to take fellow Members sailing. This is a great way for new Members to get involved in the Club, improve their skills and begin making sailing connections.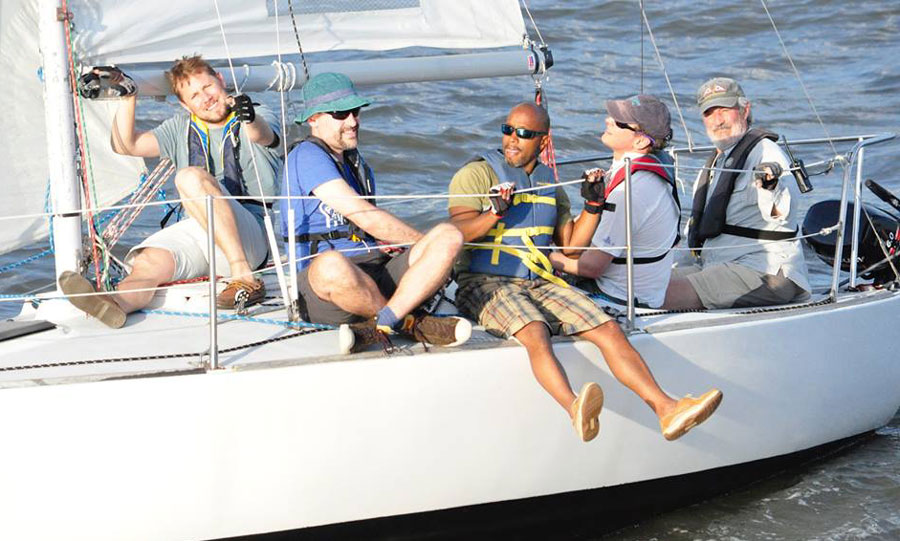 The Club also has a strong educational philosophy. The Fleet Captain Program takes many people who have just completed a Basic Sailing course and turns them into seasoned crew. There is also a Mentor Program where Skippers work with aspiring sailors to hone their skipper skills.
For travel, our Club organizes international trips every year. There is "De Caribbean Regatta" every January. In November, we head to Bermuda for a 3 day regatta on IODs. Every second year, we travel to Yacht Club de Monaco for Monaco Classic Week. In November 2018, we have been invited to New Zealand for the ribbon cutting and regatta to celebrate the new clubhouse of the Royal Akarana Yacht Club. One of the great things about Club trips is that we often send a social team in addition to a racing team.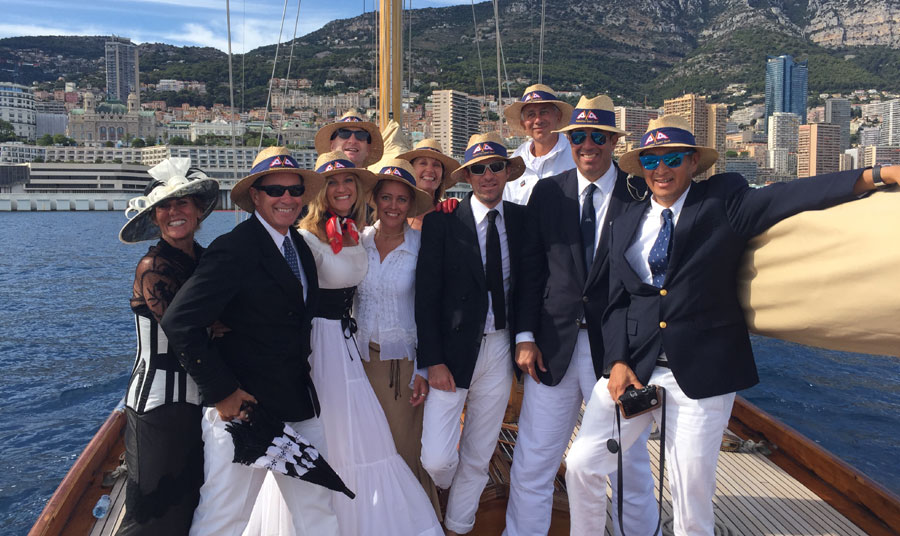 Closer to home, our big annual social events are the Sailors Ball every April and the Annual Dinner every December. In between are gatherings at the Clubhouse, Full Moon Parties in the harbor and BBQs almost every night during the sailing season.
How To Apply
To join Manhattan Yacht Club, you must be proposed by a Member. The Member will contact the Club office to request a membership application. Then you may complete the application and return it to the Club. Applicants will be invited for an interview with the Membership Committee.
Membership Committee Meeting Schedule
If you do not know any Members, you may send a cover letter with your sailing resume to Club Manager Mindy King at office@myc.org.  She will review the information and see about connecting you with a Member who could become your sponsor.
Initiation Fee & Dues
The Initiation Fee to join Manhattan Yacht Club is $250. Then there are two levels of Membership.
Regular Membership offers use of Club facilities and the ability to sail on the Club J/24 as crew. 2018 Dues for Regular Membership are $1,700 per year.
Skipper Membership offers use of Club facilities and the ability to skipper one of the Club J/24s. 2018 Dues for Skipper Membership are $2,500 per year.
Dues for Juniors (25 and under) & Seniors (65 and older) are discounted 50%. Members who join after the sailing season has begun pay pro-rated dues their first year.  If you join Jan-May, you pay full dues. If you join in June, you pay 5/6 dues, July 4/6 dues, August 3/6 dues, September 2/6 dues and October 1/6.
Provisional Status
The Manhattan Yacht Club is looking for active and engaged Members. If you are accepted into MYC, you will be given a Provisional Membership for the first year. To become a full Member, you must get involved.
There are numerous opportunities for getting involved, from sailing in the Racing or Fleet Captain Programs to volunteering on the Race Committee or at the International Yacht Club Challenge, to helping fundraise for the Junior Sailing Programs or the historic America's Cup 12 Meter Program. Applicants who are accepted into the Club will be given a more detailed list and explanations about how they can get involved.
On the one year anniversary of your Provisional Membership, the Committee will review your participation and decide whether or not to advance you to full Membership.