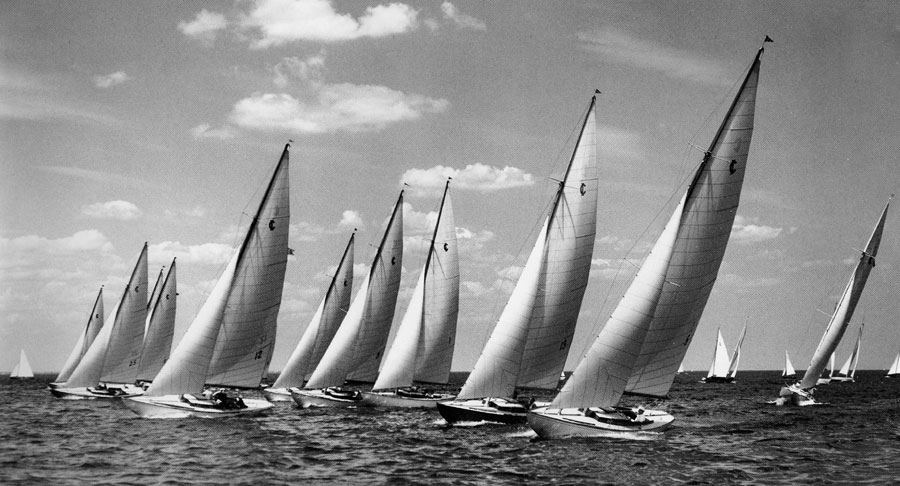 [All black & white pictures on this page are courtesy of our friends © Mystic Seaport, Rosenfeld Collection, www.rosenfeldcollection.org ]
2018 IOD Bruce Hagen Regatta
2018 IOD Fall Series
2018 IOD Summer Series
2018 IOD Spring Series
2017 IOD Fall Series
2017 IOD Summer Series
2017 IOD Spring Series
History of the IOD
MYC IOD Fleet Constitution
Commissioner's Page & How to Get Involved
What do James Spithill, Ben Ainslie, Russell Coutts, John Kolius, Cornelius Shields and Briggs Cunningham all have in common? If you were about to say America's Cup sailors, you would be somewhat correct. But they have something else in common – they are all winners of the King Edward VII Gold Cup, raced onboard IODs since 1937 in Bermuda.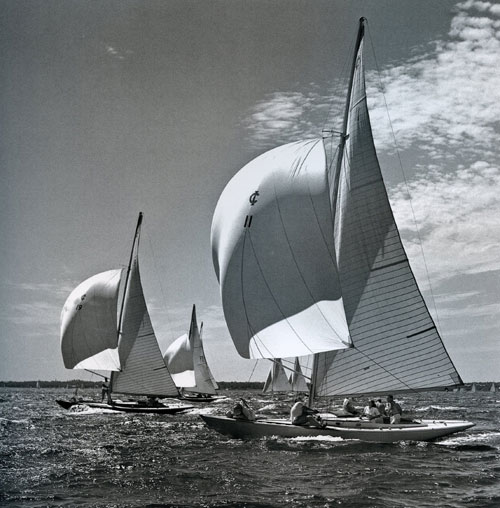 For many years, our Club has been looking for the next-level fleet for our more experienced racing and cruising Members. This would not replace our great J/24 fleet which does such a wonderful job in making sailing easy and accessible for all Members. The next-level fleet would be in addition to our J/24s.
Many years ago, we promoted a J/105 fleet but the costs and complexity of these boats ended up being too high. Since then, we have studied many other classes and have not yet found the one which is right for our Club.  What we are looking for is a classic design, not the "latest & greatest" which could lose its luster and become a flash in the pan. We are looking for yachts which are well built, easy to maintain, and are proven to hold their value over the long haul. We are looking for a yacht which is easy to sail and where new sailors can participate alongside veterans.
In the end, we believe we have found the next level fleet for MYC – the International One Design class. Our Club was exposed to this fleet in Bermuda this past November.  IODs personify beauty, grace and style. They are, in effect, miniature 12 Meters which are already hugely popular at our Club. And while 12 Meters are complex and a difficult production, IODs are simple and easy.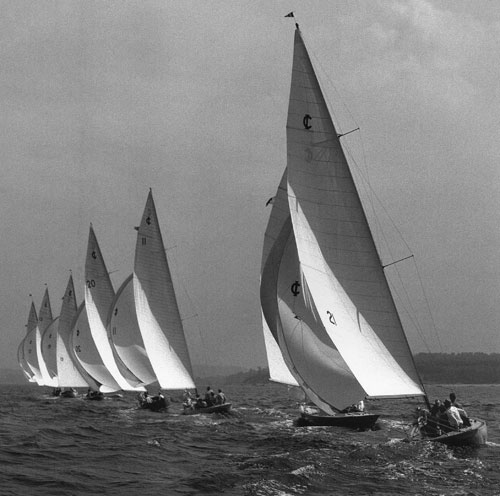 Inspired by the majesty and performance of 6 meter yachts, IODs were envisioned as the basis of a one design racing class that would have the advantages of both limiting the upwardly-spiraling costs of yacht racing, and putting competing crews on an equal footing as far as equipment was concerned.
These boats will be great for racing! They will deliver an evenly matched fleet with tight racing so that skill and wind shifts determine the winner. The boats race with 5 people so your team can be made up of experienced as well as novice sailors. The boats are also forgiving. When a puff hits, they lean over but do not spin out of control like a more modern boat.
These boats will also be great for cruising in the harbor. They are distinguished and beautiful. They are more stable and comfortable than a J/24. They will make a perfect boat to cruise with friends and family. Because of their style and grace, they will also make an excellent boat for entertaining friends and co-workers. Sailing on an IOD past the Statue of Liberty will be breathtaking and memorable.
Our fleet will be limited to 12 boats. They must all be Member-owned and you can buy an IOD as a single Member or build your own syndicate of Members. There are a few boats on the used market but they are hard to come by. There is also a builder in Chester, Nova Scotia who can deliver new boats at a reasonable cost. Racing in the IODs will be Member-only like our J/24s. For cruising, owners will be encouraged to invite non-members to participate and learn about the IOD history and vision.