MYC Dinghy Championship, Sat, Sept 15, 2018
Frostbite Sailing Instructions Winter 2017 to 2018
Manhattan Yacht Club organizes an exciting Frostbite Racing Program on Sunfish dinghies through the winter. This is a good way to increase you skills and become a better racer. Racing is organized on Saturday mornings.
Frostbiting begins with the "Turkey Bowl" on Saturday, Nov. 25, 2017.
Also mark your calendar now for the "Frostbite Bowl" on Jan. 1, 2018.
Winter Series (8 weeks): Dec 2, 9, 16, 23, Jan 6, 12, 20 & 27
Early Spring Series (9 weeks): Feb. 3, 10, 17, 24, Mar 3, 10, 17, 24 & 31

The Club offers a limited amount of storage for dinghies. You can choose Option A or B:
Option A) Rack Storage – there are 12 spaces on the club rack for storage of dinghies. This is for winter sailing only. The dinghy rack is positioned at the Clubhouse in winter (in summer, it is stored in the boatyard and not accessible to docks).  Sailors carry their boats up and down to the dock on race days. This storage is available 12 months per year. The rack storage rate is $30 per month.
Option B) Dinghy Dock Storage – there are up to 12 spaces on a new Dinghy Dock which the Club is building for year-round dinghy sailing. This dock is being built specifically for dinghies and will have a sloped deck to make it easier to pull up and launch your dinghy. There will also be room for a 2′ x 4′ small dock box to store and secure equipment. This floating dock will be positioned at the Clubhouse in winter. You will be able to slide your boat in and out of the water without carrying it up a gangway, In summer, the dinghy dock will be positioned in the back of the marina and accessible so you will be able to sail your dinghy all year. If there is enough interest, we can hold Sunfish races every Sunday next summer. The Dinghy Dock rate is $65 per month but will be discounted to $50 for 12 months for the first 6 boats.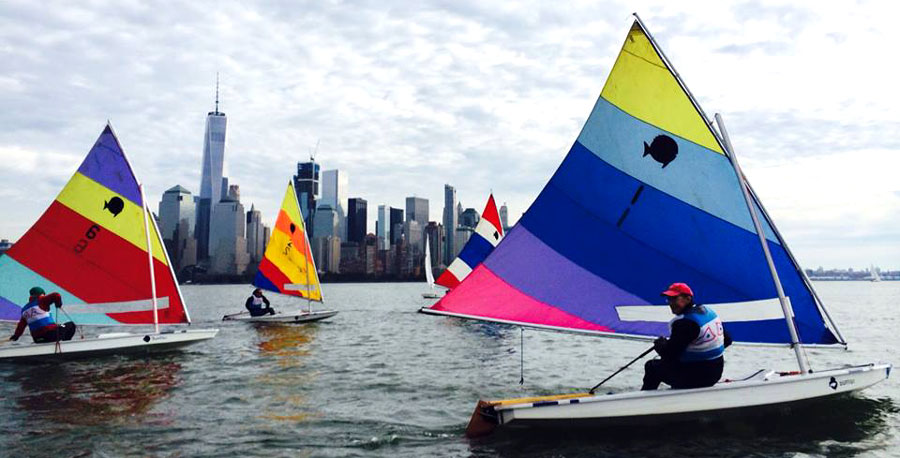 Scores:
Frostbite Winter Series (Jan & Feb 2017)
Frostbite Early Winter Series (Nov & Dec 2016)
Dinghy Dock Reservations 
The first two dinghy docks are sold out. You can go on the wait list for a 3rd dock but we need 6 people and also we are unsure there is enough room. In meantime, all other boats should sign up for rack storage.
Dock A
1. Peter Jarman/Katherine Whitby
2. Luigi Galbiati
3. Matt Winalski
4. Benoit Montin
5. Doug Witter
6. Orlando Ivey
Dock B
1. Michael Fortenbaugh/Sarah Raymond/TJ Dalton
2. Erik Thygesen/Ken Zorovich
3. Malcolm Forbes
4. John Laskas
5. Mathieu Vialle/Jay Parekh
6. Levent Kemal Sadikoglu
Wait List
1. Alex Howarth
2. James Byrne
3. Chip Dolfi

Rack Reservations
1. Chip Dolfi (wait list for Dock C)
2. Chip Dolfi 2
3. Alex Howarth (waitlist for Dock C)
4. Mike Verost
5. Mark Stehli/Anthony Oland
To enter a boat in the Frostbite Racing Program, please complete this form. For more info, send a note to office@myc.org.