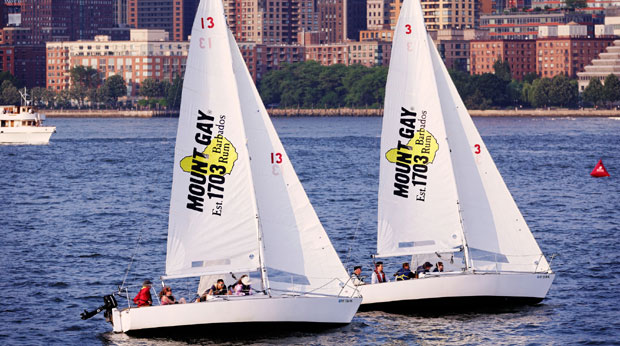 Part of "Happy Fridays" at Manhattan Yacht Club.
The "Lucky Dog Races" are held on Friday afternoons in July & August.  This is an informal and fun racing series.  The name says it all. If you are able to sail on a Friday afternoon, you are a Lucky Dog!
Don't miss them! There are only 10 races every summer.  This year, the races are: July 1, 8, 15, 22, 29, August 5, 12, 19, 26 & September 2.
Any skipper member can reserve a boat to participate. Just make a reservation as normal on the website and indicate "Lucky Dog" in the comment section. Then find your own crew or gather some pick-up crew at the dock. Any regular member is invited to come down to the docks to try and get on a race boat.
Members will be challenged in this series by sailors in the Teen Sailing Camp. The teen program expects to field 3 to 5 boats each Friday.
The Lucky Dog Race is a fun program, not a serious race. Everyone is encouraged to participate but we have these rules to make sure sailors do not get too serious:
This is an informal and fun racing series. Anyone taking this too seriously will be considered a cat amoung the Lucky Dogs.
The Skipper's Meeting is at the clubhouse at 2:30 p.m.
The start of the race is at 3:00 pm exact on GPS time. The race committee will just blow the starting horn at 3:00 exact and then call any boats over the line if they are.
The race course will be announced at each Skipper's Meeting.
Racing Team Captains in the Tuesday or Wednesday Series may sail as crew, but not steer the boat.
Pick up crews are encouraged. If there is a member at the dock looking to join the race and your boat is not full, please take them. That's the Lucky Dog spirit!
Anyone who wins two consecutive races will have to let someone else steer the following week.
The program was begun in 2010 and became an immediate success with a strong and growing following of Lucky Dogs.
Celebrate Happy Fridays at the club. Don't just come to sail. Come to LIVE! Bring a picnic or BBQ and hang out at the Club after sailing. Start your weekend in great style. Stay around for the sunset, chat with your fellow members, pay corn hole, enjoy the rocking chairs, sip some wine and beer or Mt Gay Rum & tonic and live the sailing lifestyle!